Welcome to The CoffeeNet®
An Internet Cafe!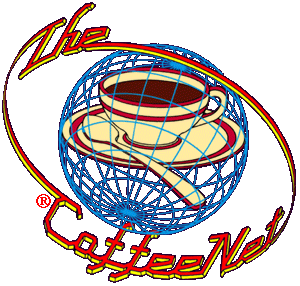 "The Greatest Coffee and The World"®
744 Harrison Street, San Francisco, California
email: roastmaster@coffeenet.net
Telephone: 1-415-495-7447
---
We've added a Help page and a FAQ
In order to help you to be more effective and self-sufficient in using the machines at The CoffeeNet®, we've added a couple of new features:
A Help page to help you understand our GUI interface
A FAQ (Frequently Asked Questions) List that answers many common questions
Please check them out and let us know what you think.
---
Hours of operation!
< NEW > New longer hours! < NEW >

Monday through Wednesday from 7AM to 9PM,
Thursday and Friday from 7AM to 11PM,
Saturday from 10AM to 11PM,
Sunday from Noon to 9PM.

Check out the MENU
---
Your internet "home away from home"
Wouldn't it be nice to be able to walk into a place with a friendly atmosphere, get a great cup of coffee and a pastry or sandwich, and sit down and read your email or surf the web... even if you are not near your regular internet connection?
San Francisco's only FREE Internet Cafe; The CoffeeNet®, (located on Harrison Street between 3rd and 4th in the heart of the South Of Market Area), offers you exactly that.
Check out the review that appeared on the front page of The San Francisco Chronicle's DateBook on September 2, 1996.
Did you catch us on CBS? Dan Rather's Evening News on Monday July 7, 1997 discovered that The CoffeeNet® was great place to catch up on the Mars landing with photos and movies. Thomas looked GREAT! on National TV.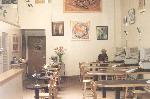 Click on the pictures to see us better

<<--- Looking IN and looking OUT --->>


---
Free Internet Access with $5.00 Minimum FOOD Purchase!
We are ask that you purchase a minimum of $5.00 worth of food or beverages (per table), and if you do that, you'll have as much FREE time on the computers as you want during that visit, subject to our 1 Hour rotation policy when people are waiting in line for access.
We request that after one hour has elapsed, you check with the staff at the front counter to see if anyone is waiting to use a computer. If nobody is waiting, please feel free to continue using the machine. However, if there IS someone waiting, we ask that you log out and add your name to the bottom of the waiting list. When your turn comes up again, you're welcome to use the machine for another hour.
The computer tables are available at a basic rate of $5.00 per session for those who do not wish to fullfill the minimum purchase requirement.
EARLY BIRD SPECIAL: Our table minimum before 10AM is only 2.50.
---
Fast, Premium Equipment, Connection and Applications
The CoffeeNet® uses Pentium workstations with 24 bit color video, 17 inch monitors, multimedia stereo sound and 32MB of RAM, using the X Window System and our custom Graphical User Interface for ease of operation.
These machines are connected to the internet via a 128KB frame relay line so you'll have plenty of bandwidth and excellent interactive response.
You'll use all the well-known internet utilities including:
Browse the web with Netscape Navigator
Transfer files via ftp
Realtime chats on Internet Relay Chat with IRC
Read usenet news on our onsite news server
Read and send email on your FREE EMAIL ACCOUNT
Create your own WEB PAGE in your FREE personal WWW space!
---
Fresh Beverages
The CoffeeNet® features premium grades of coffee from Peerless Coffee, freshly roasted and ground for the greatest brewed coffee. We have several varieties of coffee and your favorite espresso drinks, including:
espresso
lattè
capuccino
macchiato
iced coffee
We also offer a variety of exotic teas, sodas, fresh fruit juices, and fresh fruit SMOOTHIES.
---
Fresh Sandwiches, Salads, Soups and Pastries
The friendly folks at The CoffeeNet® will make your sandwich to order, using only the freshest and highest quality breads, vegetables, meats and cheeses from around the world.
We also prepare a variety of delicious salads, and we have a different soup every day.
Our large selection of pastries is delivered to us fresh each morning, and the selection includes a variety of scones, muffins, cookies, biscotti, and MUCH MUNCH more.
Check out the MENU
---
Come visit us!
Great coffee, espresso and teas, fresh sandwiches, soup, salads and pastries, with the whole world of the internet at your fingertips via fast machines and a fast connection... Come visit us and make The CoffeeNet® your internet "home away from home"!
The CoffeeNet®
744 Harrison Street
San Francisco, CA

(between Third and Fourth Streets, corner of Lapu Lapu and Harrison, One block from Moscone Center and MOMA) - Enter in rear on Lapu Lapu street.
Here's how to get here from ANYWHERE. It's an interactive mapping program that will plot your route from any starting point to The CoffeeNet®, and will even give you detailed driving directions. You just need to remember our address: 744 Harrison Street, San Francisco, CA.
---
Let us know what's on your mind!
Please mail your comments, compliments, suggestions, or complaints to roastmaster@coffeenet.net
---
"The CoffeeNet"® name and logo as well as the slogan "The greatest coffee AND the world®" are federally registered trademarks of The CoffeeNet® in San Francisco, CA
---
Last modified: July 13, 1997